March 2019 Goals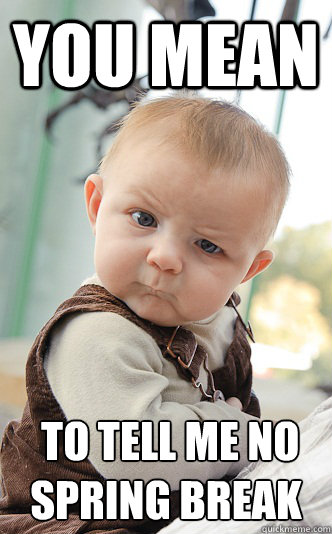 No no small child, don't worry. There is a spring break. And I'm even going on vacation! However, this means that I only have 19 days to finish up all of my March goals :0 But first, let's review last month's progress.
Bypass:
Submitted my bypass application…AND GOT MY BYPASS APPROVED! That's right. I'm a Ph.D student now :0
Virginica:
Gigas Broodstock:
Didn't send samples for sequencing or determine if I can isolate RNA, but I did make a nifty flowchart.
March Goals
Virginica:
Finish gene product descriptions
Compare hypermethylated and hypomethylated DMRs and DMLs
Draft discussion
Finish sperm DNA extractions and send samples for whole genome bisulfite sequencing
Gigas Broodstock:
Figure out what to do with the isolated DNA…and do it.
Other:
Add new members to my committee
Schedule a committee meeting
Figure out when I'm taking my written exam
Polish my Ph.D proposal
Written on March 1, 2019